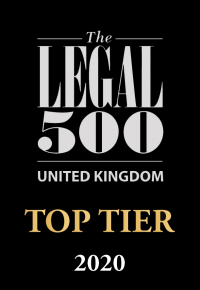 Legal 500    
Mathys & Squire is a Tier 1 ranked firm for patents in the 2020 edition of The Legal 500 – UK Guide. The directory has commented: 
'Mathys & Squire's life sciences and chemistry and IT, telecoms and engineering departments are among the most active and prestigious patent drafting and filing practices in the market. While the practice counts a high number of international corporations as its clients, it can also look back on a strong track record of prosecution work for start-ups and was appointed as a provider of intellectual property rights services for the North Eastern Universities Purchasing Consortium in 2018.' Christopher Hamer (who is "always keen to provide support in whatever way the firm can, which is very useful for an in-house team that has several peaks of legal work and different priorities from time to time") and Martin MacLean ("a real guru in the healthcare and pharmaceutical field, and brings his experience to bear in not only giving very wise legal advice, but also setting things in a commercial context") direct the life sciences and chemistry group, while Jane Clark and Ilya Kazi (who is "second to none in being able to sit down with a new client and get straight to the crux of the issue they need to resolve. He is excellent both in detail and in longer term strategy, very often coming up with business directions that the clients have not thought of.") direct the IT and electronics department. Paul Cozens is the head of the engineering practice and the Cambridge-based Alan MacDougall leads the telecoms group. Anna Gregson "is simply outstanding. Professional, pragmatic, approachable and always on hand for advice." Catherine Booth "excels in: 1) understanding the business needs, 2) learning the technical details, 3) capturing relevant law, 4) persuasive communication both on paper and in person, 5) listening to and countering third parties in real time". Sean Leach "is technically brilliant and even R&D folks, who are PhDs in their specialist areas, have commended his grasp of new technologies" and Craig Titmus "is highly knowledgeable and consistently meets incredibly tight deadlines".'
Further praise for the firm includes: "The team has a unique blend of diversity of technology expertise combined with individual personal touch, which means that you get both the security that the science is fully understood, along with the in-depth relationship with a single key legal adviser. They are adaptive and responsive to the client's needs, and very experienced in handling complex collaborative projects with several stakeholders. They also have outstanding commercial expertise, so always see the bigger picture."
"Mathys & Squire LLP is an excellent associate office for EPO patent matters. The team is efficient and responsive. They are in tune with the client's needs and handle our requests in a professional and well-organised manner. Their experience makes it easy to entrust them with patent filings for UK as well as for EPO matters."
"Very professional, innovative, reliable and efficient."
Our trade mark team is also highly ranked in the latest edition of The Legal 500:
'Mathys & Squire LLP assists with the full spectrum of trade mark prosecution and since its acquisition of Coller IP in December 2017 is also able to offer a comprehensive trade mark valuation and commercialisation service. The group is experienced in assisting large multinationals and domestic start-ups alike, with an especially strong focus on the automotive sector as part of an overall diverse sector offering. The Manchester-based Gary Johnston and the London-based Margaret Arnott, who is dual-qualified as a solicitor and heads the litigation practice, direct the team. 
Please click here for details of our The Legal 500 ranking in full.
Chambers                             
Mathys & Squire is ranked highly in the Intellectual Property: Patent & Trade Mark Attorneys category for Chambers UK 2020. The firm is noted for being a 'highly regarded patent and trade mark practice with an impressive client list drawn from many different industries. Recommended for prosecution, contentious registry actions and IP commercialisation. Assists solicitors with patent litigation in the courts. Has offices in France, Germany and Luxembourg.' 
One client commented: "I find their work to be phenomenal and a lot of that is to do with how they work with each other internally, which has allowed them to achieve results beyond our expectations."
A source said: "They have a wonderful combination of good technical expertise, commerciality and dynamism."
Another client said: "We have an extremely positive impression of the firm – a very safe pair of hands with wide capabilities and able to progress overseas filings with a judicious choice of local agents."
Partner Martin MacLean is ranked Band 1 for his expertise in 'prosecuting often revolutionary and highly valuable patent portfolios. A client says: "He is highly responsive and creative, and works very closely with our scientists."
Click here to see Mathys & Squire's full Chambers UK profile for the 2020 edition.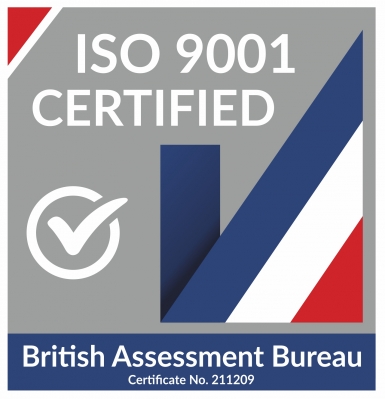 We are proud to be ISO 9001 accredited. By meeting the standards of ISO 9001, the firm has shown commitment to providing a high level of customer service, delivering consistent performance and continuously improving. We pleased to be able to formalise our processes and gain recognition for our commitment to delivering a first-class service to our clients.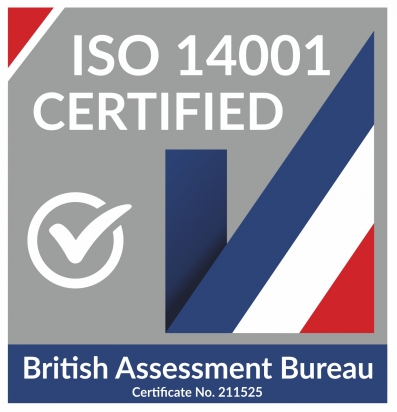 We are delighted to have achieved ISO 14001 accreditation. ISO 14001 focuses on environmental management and recognises that we are committed to improving environmental performance through efficient use of resources and reduction of waste. We are proud of being an environmentally aware firm.
To find out more about ISO 14001, please click here.